What is CreamAPI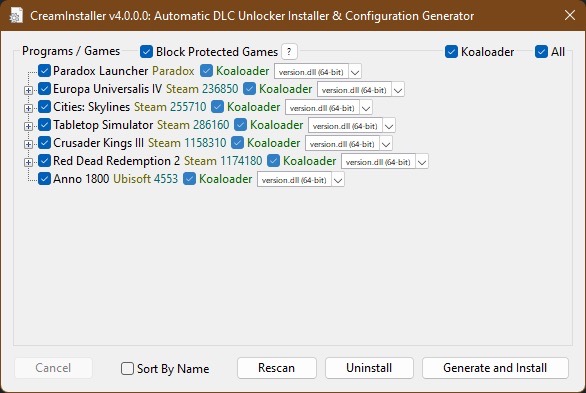 CreamAPI (CreamInstaller) automatically finds all installed Steam, Epic and Ubisoft games with their respective DLC-related DLL locations on the user's computer, parses SteamCMD, Steam Store and Epic Games Store for user-selected games' DLCs.
Then it provides a straightforward graphical interface utilising the gathered information.
The program utilises the latest versions of Koaloader, SmokeAPI, ScreamAPI, Uplay R1 Unlocker and Uplay R2 Unlocker, all by the wonderful acidicoala, and all downloaded from the posts above and embedded into the program itself; no additional downloads are necessary on your part!
The program's main function is to automatically generate and install DLC unlockers for games and DLCs the user selects.
Additional functionality through the use of right-click context menus that the user can also:
automatically repair the Paradox Launcher

open parsed Steam and Epic Games appinfo in Notepad(++)

refresh parsed Steam and Epic Games appinfo

open root game directories and important DLL directories in Explorer

open SteamDB, ScreamDB, Steam Store, Epic Games Store, Steam Community, Ubisoft Store, and official game website links (where applicable) in the default browser