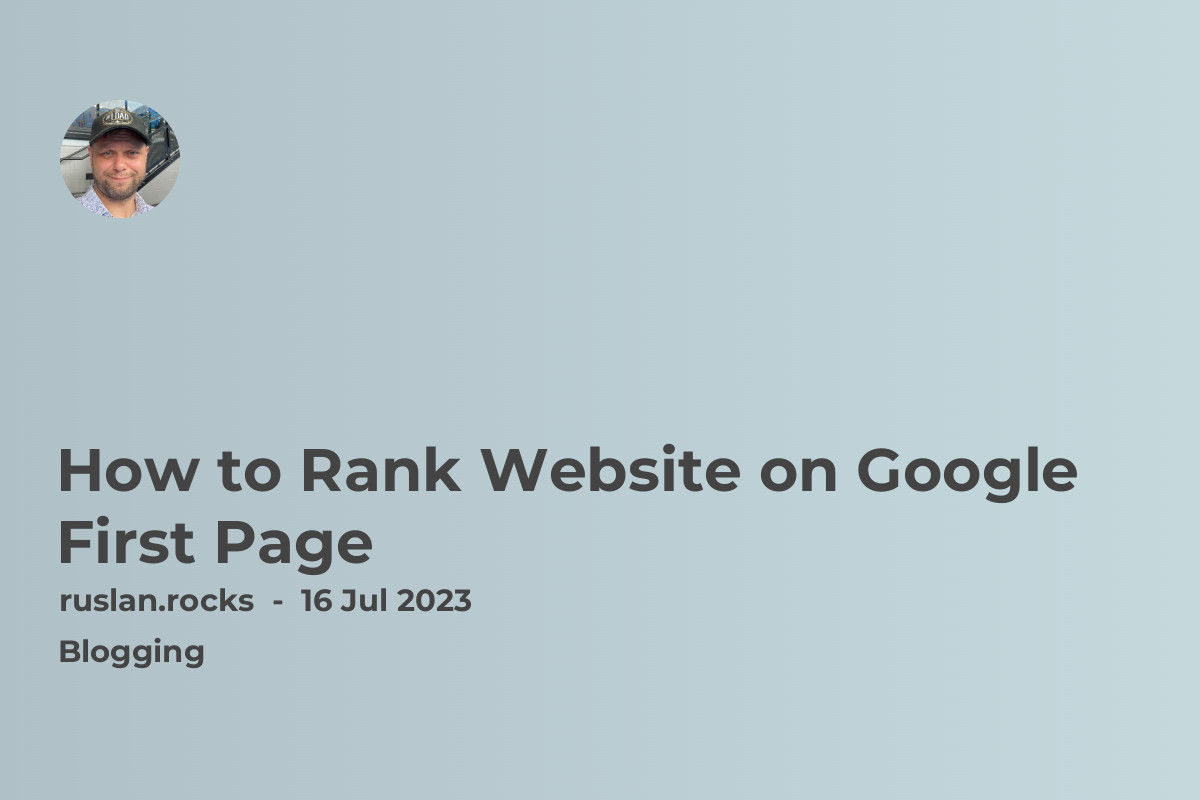 The key methods to rank website on Google first page:
The most important ranking factors for achieving first rank on Google are high-quality content, backlinks from authoritative sites, page speed and user experience, and on-page optimization.

Creating unique, in-depth, and engaging content that provides value to users is essential for ranking highly. Content should be optimized for relevant keywords, cover topics comprehensively, and be regularly updated.

Earning backlinks from authoritative, relevant sites signals trust and authority to Google. Focus on high-quality links rather than quantity.

Fast page speed and excellent user experience signals quality to Google and improves click-through rate. Core Web Vitals are a key component.

On-page optimization entails optimizing title tags, headings, URLs, image alt text, and schema markup. This helps Google understand the content.

Additional important factors include site authority, local SEO for geographic keywords, and social signals like shares and engagement. Promoting content can help build these.
Introduction
Achieving the coveted first position on Google is the goal for many websites and businesses. With over 90% of search engine traffic going to the top three organic results, ranking highly delivers significant visibility and traffic. However, with competition intensifying and Google's algorithm evolving, ranking first has become increasingly difficult.
This article describes the fastest and most effective methods sites can use to achieve that top spot based on the latest Google ranking factors and best SEO practices.
Key Google Ranking Factors
Google uses over 200 ranking factors in its algorithm, but these are among the most influential for achieving high rankings:
High-Quality, Comprehensive Content
Unique, original, and engaging content that offers value to users is Google's top priority.

In-depth, comprehensive content that thoroughly covers a topic performs best. Aim for at least 1,500 words.

Regularly update and refresh content to keep it fresh and authoritative in Google's eyes.
Authoritative Backlinks
Earning backlinks from authoritative, reputable sites signals trust and authority.

Prioritize high-quality over quantity. Relevant backlinks from topically related sites are ideal.

Use strategies like guest posting on authority sites or link insertion to build quality backlinks.
Fast Page Speed and User Experience
Faster page speed improves user experience. This signals quality to Google.

Core Web Vitals like LCP, FID, and CLS are key page experience metrics Google uses.

Optimize images, enable caching, minify code, and more to accelerate page loads.
On-Page Optimization
Optimize title tags, headings, image alt text, URLs and schema markup to help Google understand the content.

Make site easily navigable through site architecture and internal linking structure.

Ensure content is mobile-friendly and site uses HTTPS encryption.
Other Important Factors
Site authority - Domain authority and age can give a slight ranking boost for established sites.

Local SEO - Optimizing for local searches can help rank for geographic keywords.

Social signals - Shares, links, and engagement on social media can boost rankings.

Promotion - PR and outreach campaigns to build links and social engagement are effective.
Conclusion
Producing high-quality, comprehensive content and promoting it to earn backlinks from authority sites are the most critical ranking factors according to Google. However, excellence in page speed, user experience, and on-page optimization also contribute significantly to reaching the coveted first position. Sites looking to rank #1 should ensure they have optimized these key areas before exploring more advanced ranking tactics.
Sources
SEO Best Practices: 10 Tips to Improve Your Google Rankings
https://backlinko.com/hub/seo/best-practices
10 SEO Best Practices to Improve Your Organic Rankings & Traffic
https://www.semrush.com/blog/seo-best-practices
How the Google Search Algorithm Works & Affects SEO in 2023
https://www.semrush.com/blog/google-search-algorithm
Top 8 Google Ranking Factors: What REALLY Matters for SEO
https://www.searchenginejournal.com/ranking-factors/top-ranking-factors
Google's 200 Ranking Factors: The Complete List (2023)
https://backlinko.com/google-ranking-factors
How the Google Search Algorithm Works
https://ahrefs.com/blog/google-search-algorithm
SEO Starter Guide: The Basics | Google Search Central  |  Documentation  |  Google for Developers
https://developers.google.com/search/docs/fundamentals/seo-starter-guide
Related video