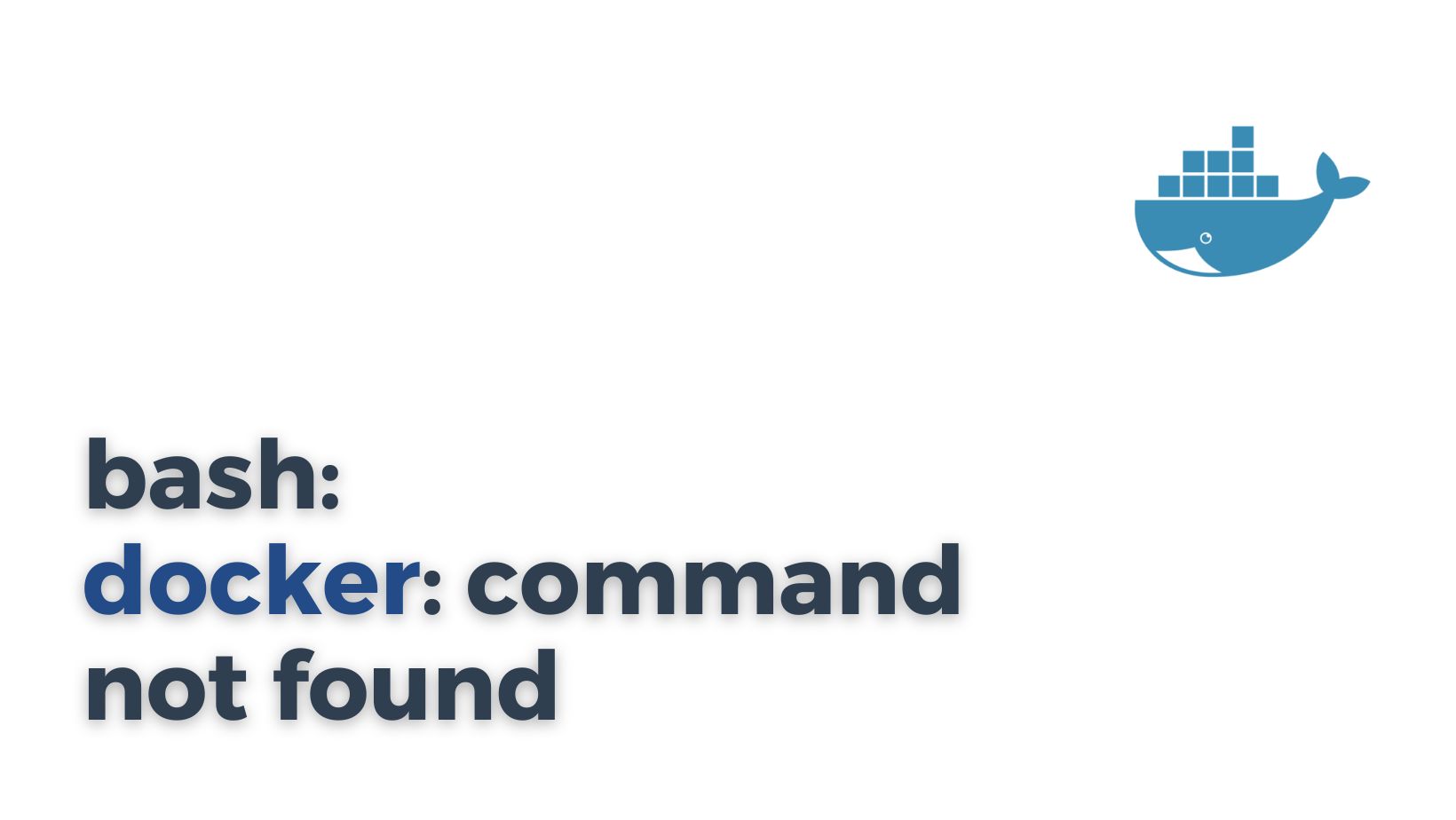 If you see the error "bash: docker: command not found", the Docker command is unavailable in your current shell environment. This can happen if Docker has not been installed on your system or the Docker command is not in your shell's search path.
To fix this error, you'll need to either install Docker on your system or add the Docker command to your search path. Here are some possible solutions:
Install Docker on your system: If you don't have Docker installed, you can follow the instructions on the Docker website to install it. This will ensure that the Docker command is available in your shell environment.

Add the Docker command to your search path: If Docker is already installed on your system, but the Docker command is not in your search path, you can add it to your path manually. This can be done by modifying your shell's startup script (such as .bashrc or .zshrc) to include the directory where the Docker command is installed.

Use the full path to the Docker command: If you don't want to modify your search path, you can also run the Docker command by using its full path on the command line. For example, if Docker is installed in /usr/local/bin, you can run the Docker command like this: /usr/local/bin/docker [options] [command] [arguments].
Start Docker daemon
If Docker is installed and added to PATH, but the Docker daemon is not running, you will need to start it. The exact steps will depend on your operating system, but generally, you can start the Docker daemon by running the following command:
sudo service docker start
What is bash
Bash is a Unix shell and command language. It is the default shell on many Linux and macOS systems. A shell is a program that allows you to interact with the operating system by typing commands and receiving the output. Bash is a popular shell because it is powerful and easy to use.
Bash provides many features that make it useful for users and programmers. Some of its features include:
Command line editing: Bash allows you to use the arrow keys to move around the command line, edit previous commands, and more.

History expansion: Bash allows you to use special characters to refer to previous commands and their output. For example, you can use the !$ character to refer to the last argument of the previous command.

Shell scripting: Bash allows you to write scripts (a series of commands) that can be executed automatically. This is useful for automating tasks or creating reusable command sequences.

Aliases: Bash allows you to define short aliases and user-defined names for longer commands. This allows you to type less and save time when using frequently-used commands.
Overall, Bash is a powerful and versatile shell widely used on Linux and macOS systems. I hope this helps!
What is Docker
Docker is a tool used to automate applications' deployment in lightweight containers. These containers are isolated from each other and can be easily moved from one environment to another, making it easier to deploy and manage applications.
Docker allows you to package your application and its dependencies into a single container, which can be run on any machine with Docker installed. This makes sharing and distributing your application easier and ensures that it will always run the same, regardless of the environment it is running in.
Docker is widely used in software development and deployment, and it is supported on many different platforms, including Linux, macOS, and Windows. I hope that helps! Let me know if you have any other questions.