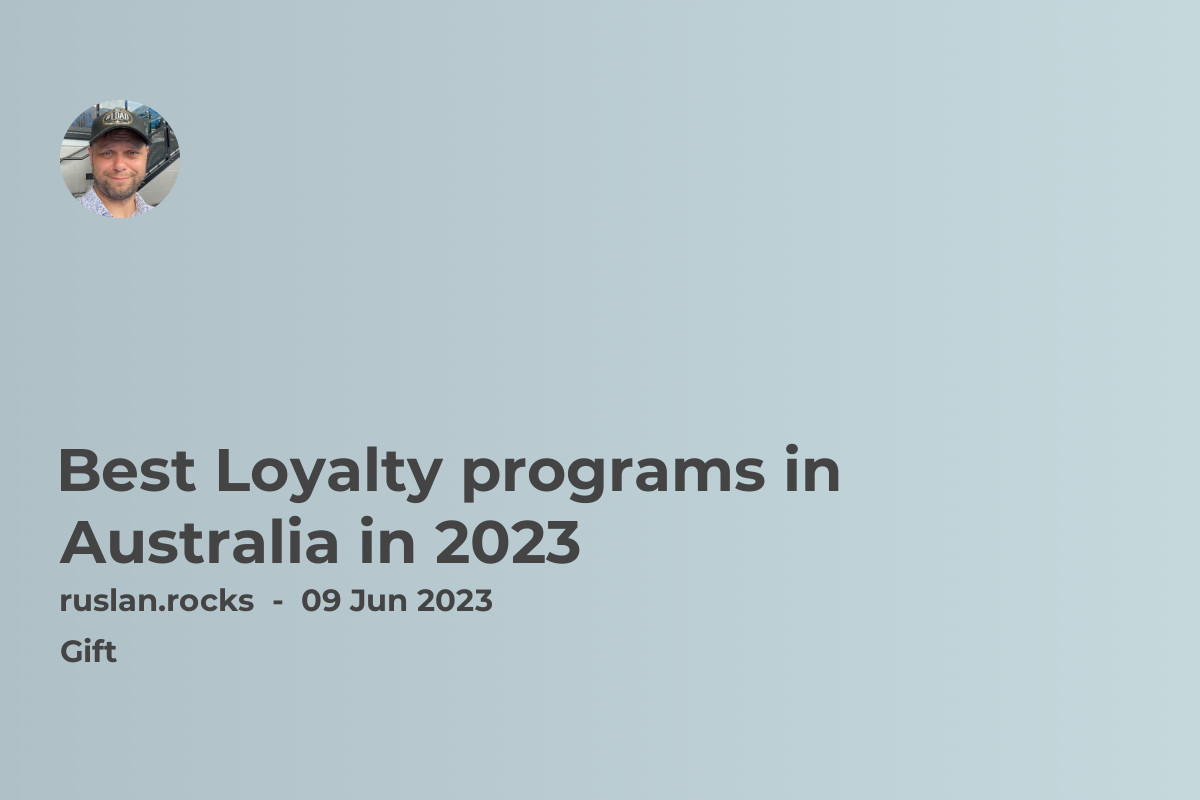 In today's competitive market, companies are always looking for ways to attract and retain customers. One of the most effective methods for achieving this goal is through loyalty programs. A loyalty program is a marketing strategy that rewards customers for their continued patronage with incentives such as discounts, free products, and exclusive offers. In this article, we will explore the best loyalty programs in Australia.
Loyalty programs have become an integral part of the business world, and for good reason. They help companies retain existing customers and attract new ones. Loyalty programs incentivize customers to continue doing business with a particular brand by offering rewards for their loyalty. In Australia, there are many loyalty programs available, but some stand out above the rest.
If you're looking for ways to save money and get discounts, you should join a loyalty program. These programs offer members rewards and benefits, and many programs are available in Australia.
This blog post will discuss Australia's best loyalty and rewards programs and how you can earn rewards and benefits. So let's get started!
What are Loyalty Programs?
Loyalty programs are a marketing strategy used by companies to reward customers for their continued patronage. These programs typically offer incentives for customers who make repeat purchases, such as discounts, free products, and exclusive offers. The goal of a loyalty program is to encourage customers to continue doing business with a particular brand by offering them something in return.
Benefits of Loyalty Programs
Loyalty programs offer many benefits to both companies and customers. For companies, loyalty programs can help increase customer retention, boost sales, and improve customer engagement. For customers, loyalty programs can provide incentives for repeat purchases, help them save money, and provide access to exclusive offers.
Types of Loyalty Programs
There are several types of loyalty programs available in Australia. These include:
Point-Based Programs: Customers earn points for their purchases, which can then be redeemed for rewards such as discounts or free products.

Tiered Programs: Customers are assigned to different tiers based on their spending habits. Each tier offers different rewards and benefits.

Cash-Back Programs: Customers receive cash back on their purchases in the form of credits or vouchers.

Coalition Programs: Several companies partner together to offer a joint loyalty program that rewards customers for their purchases across multiple brands.
Some of the best rewards and customer loyalty programs in Australia 2022 are:
| Program name | Number of members |
| --- | --- |
| Qantas Frequent Flyer | 13.5m+ |
| Priceline Sister Club | 7m+ |
| Flybuys | 8.7m+ |
| Woolworths Everyday Rewards | 12.5m+ |
| Velocity Frequent Flyer from Virgin Australia | 10m+ |
| MYER one | 5m+ |
| All - ACCOR LIVE LIMITLESS | 230,000+ |
| BP Rewards | 1m+ |
Qantas Frequent Flyer - one of the best loyalty program
Qantas Frequent Flyer probably is the most popular and well-known loyalty program in Australia.
You can earn Qantas Points when you fly with Qantas airline, purchase Qantas insurance, and spend money buying products from Program partners.
Then you can spend your Qantas Points on the marketplace and get something useful or cool.
Qantas always run competitions where you can win valuable prizes.
Official website: Qantas Frequent Flyer
Priceline Sister Club - Rewards program from Priceline
Priceline Sister Club provides the following benefits to its loyal customers:
Beauty Boxes

Exclusive Gifts

Sister Club Rewards voucher

Partner Perk Discounts
The more you spend - the more you earn Points and the higher Tier you get.
Official website: Priceline Sister Club
Flybuys - Australian loyalty and rewards program
Flybuys is one of the best rewards programs in Australia, offering customers collecting points when they spend money buying products across more than 20 Flybuys partners, such as Bunnings, Coles, Kmart, Liquorland, Officeworks, Target, Optus, Citi and others. Then you can spend your points in the Rewards Store with over 1,000 rewards.
Flybuys also runs regular competitions and giveaways where you can win, for example, a trip to some exciting destination.
Official website: Flybuys
Woolworths Everyday Rewards
Everyday Rewards program (Woolworths Rewards in the past) is a free loyalty program that offers you to start collecting points when you spend money buying products in Woolworths or any of their partners, like BWS, BIGW, Bupa, Origin, Ampol and many others. Most of the time, you will get 10 points for each dollar you spend, but as always, some Terms and Conditions may apply.
Official website: Woolworths Everyday Rewards
Velocity Frequent Flyer from Virgin Australia
Velocity Frequent Flyer is a loyalty program from Virgin Australia, allowing you to earn points with over 90 program partners and over 200 e-Store partners on your regular spending. You can then use your Velocity Points on flight upgrades, hotels, cars, gift cards and other products.
Official website: Velocity Frequent Flyer
MYER one
MYER one is a free membership program where you can earn two credits for each dollar you spent in-store or online at Myer (for members who spent up to $1,499). Every 1000 credits earn you a $10 Reward that you can pay online or in-store at Myer.
It also gives you a $15 Birthday Reward on your birthday (if you spent from $1,500 to $5,999, you become a Silver member) plus a $10 Reward for your Membership Anniversary.
If you spent more than $6000, you would become a Gold member. You will be treated with a $20 Birthday Reward, a $15 Reward on Membership Anniversary, get Free Standard Delivery option and other benefits.
If you are lucky, you may get the Platinum membership by invitation. The membership will give you everything from Gold status plus Personalised Shopping Parties, Platinum Exclusive Offers and Events, and Free big and bulky delivery. On your birthday, you will get a $30 Birthday Reward and celebrate your Membership Anniversary with a $20 Reward. How cool is that!
I'm looking forward to being invited...
Official website: Myer One program
All - ACCOR LIVE LIMITLESS
Membership of the ALL - Accor Live Limitless loyalty programme is free. You can join the programme by registering:
On all.com website or accor all application,

During your stay in one of the Accor hotels participating in the programme,

When you reserve through Accor telephone reservation offices,

Or by any other means available.
Accor Live Limitless card is a free loyalty card that allows you to earn and redeem points while enjoying exclusive benefits linked to the status of your card.
You also receive the special Members' rate, exclusively on Accor websites, which offers a discount ranging from 2% to 10% on some general public rates. Check the details here.
BP Rewards
With BP points you have two options:
Choose BP Points to redeem for dollars off at BP - 500 points gives you $5 off! Or use your points for David Jones eGift Cards.

Choose to earn Qantas Points to put towards your next holiday, hotel stay and more. Or use at bp - 1,900 points give you $10 off!
You can download the BPme app to access latest offers, your points balance, digital card and more. You will also earn points when you pay for fuel from the comfort of your car.
You can earn points by simply scanning your BP Rewards card or BPme app before you pay.
The other way is to scan your Qantas Frequent Flyer card or digital card int the Qantas application.
You can Earn 2 points per litre on BP Ultimate Unleaded, 1 point per litre on all other fuel, 1 point per dollar on eligible shop purchases.
Once you hit 500 BP Points you can redeem $5 off your next eligible purchase.
Official website: https://bprewards.com.au/
What is a loyalty program?
A loyalty program is a way for businesses to reward their customers for their repeat business. Customers who sign up for such a program typically receive discounts on their purchases and special privileges such as early access to sales or exclusive offers. While some loyalty programs are free to join, others may require a fee. Businesses often use loyalty programs to build customer loyalty and encourage repeat business. For businesses, loyalty programs can also be a way to track customer spending and preferences. Ultimately, a well-executed loyalty program can benefit both companies and customers.
Many businesses offer loyalty programs to encourage customers to continue patronising their products or services. The specific perks of a loyalty program will vary depending on the company, but they all provide a way for customers to save money and receive special treatment. Whether you're a frequent shopper or just looking for a way to save, signing up for a loyalty program is always a good idea.
How to become a member?
Many stores and businesses offer loyalty programs that allow customers to earn rewards for their purchases. While the specifics vary from program to program, most loyalty programs work in similar ways. Customers typically need to sign up for an account with the store or business to become loyalty program members. This can usually be done online or in person at the register. Once an account is created, customers will start earning points every time they make a purchase. These points can then be redeemed for discounts, free items, or other special offers. Some loyalty programs offer additional benefits, such as exclusive sales and early access to new products. Signing up for a loyalty program can be a great way to save money for people who frequently shop at a particular store or business.
How much can I save from the membership?
Have you ever wondered how much money you could save if you had a membership to a gift card site? If you take advantage of the available discounts and deals, you could save more than $1000 per year. That's enough to pay for a vacation, a new wardrobe, or even a down payment on a house. Plus, with the money you save, you'll be able to afford to give even more gifts.
What other benefits I can get apart from discounts?
Being a member of a club or organisation has its perks--and discounts are just one of them. In many cases, members also enjoy early access to sales and events and exclusive products and services. For example, some clubs offer members early access to tickets for popular concerts or sporting events. Others may offer exclusive discounts on travel or dining. And still, others may provide complete access to products or services unavailable to the general public. No matter the benefit, membership in a club or organisation can be a great way to save money and enjoy perks that non-members cannot access.
So there you have it! Loyalty programs in Australia and how you can take advantage of them to save money. Happy shopping!
Create your own Customer Loyalty Program
If you have your own business with thousands of clients and you want give them more benefits it would be right choice to start your branded Rewards Program.
Here is a list of companies who can build and customise loyalty program:
EonX
Create your very own branded rewards experience by leveraging instant benefits and exclusive offers from leading brands and service providers. EonX will tailor your loyalty program with these features:
Access instant benefits & savings

Personalise rewards & incentives

Monetise sponsors & partnerships
Official website: https://eonx.com/
Zinrelo
Zinrelo offers a dynamic rewards platform that drives revenues and ROI. Zinrelo combines premium loyalty technology with data sciences and machine learning to help businesses launch the best customer loyalty rewards programs that drive meaningful revenue.
Official website: https://www.zinrelo.com/
In conclusion, loyalty programs are an effective way for businesses to retain customers and attract new ones. Australia offers a variety of loyalty programs, each with its own unique rewards and benefits. The best loyalty program for your business will depend on several factors, such as your customer base and the type of rewards and benefits they value most. It's important to research and compare different programs to find the one that best suits your business and customers.
Related video