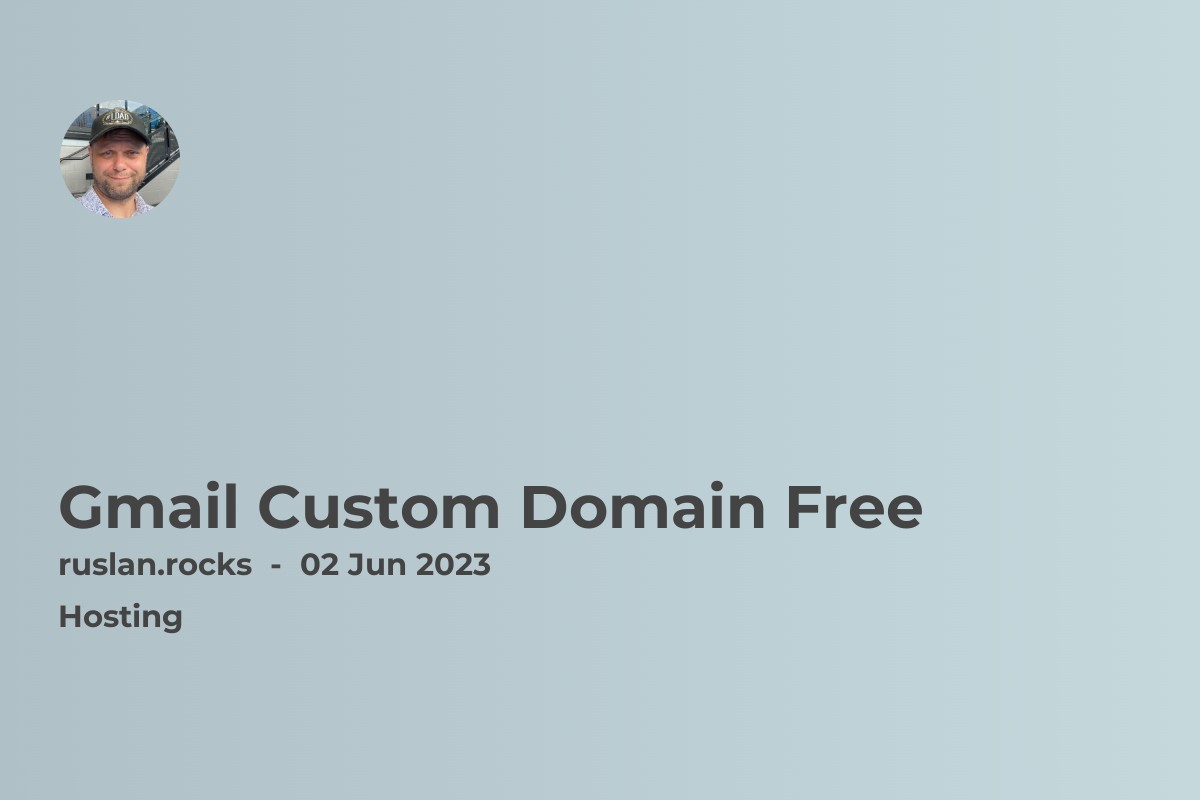 What is a Gmail Custom Domain and How to Use Gmail for Free as your email?
A Gmail custom domain is a feature that allows you to use Gmail to manage your email accounts with your own custom domain name. Instead of using a generic email address such as [email protected], you can use an email address that is personalized with your own domain name, such as [email protected].
This can be beneficial for individuals, small businesses, or organizations that want to establish a professional online presence and improve their branding. With a custom domain email address, you can show your customers and clients that you are a legitimate and trustworthy business.
Using a Gmail custom domain also means that you can take advantage of Gmail's powerful email management tools, such as spam filtering, inbox organization, and search capabilities, while still using your own custom domain name.
Gmail's custom domain feature is free, and it allows you to create up to 100 email aliases for your domain. This means that you can create different email addresses for different purposes, such as [email protected], [email protected], or [email protected], all of which can be managed from your Gmail account.
Overall, a Gmail custom domain is a great way to improve your online presence and enhance your brand recognition, while still being able to use the powerful email management tools of Gmail.
Advantages of Using a Custom Domain for Google Email:
Professional Image: Having a custom domain for your Gmail address account can give you a more professional image, especially if you are using it for business or work purposes. A custom domain can make your email address look more trustworthy and credible.
Custom Branding: A custom domain can also help you with branding your business or personal brand. By using your own domain name in your email address, you can create a consistent brand image across all your communications.
Better Control: When you use a custom domain, you have better control over your email account. You can easily manage your email accounts, set up email forwarding and filters, and ensure that your emails are delivered to the right place.
Increased Security: Using a custom domain for Gmail can also increase the security of your email account. You can set up your own domain-specific email authentication protocols, such as SPF, DKIM, and DMARC, to protect your email account from spam and phishing attacks.
Better Accessibility: With a custom domain, you can access your email account from anywhere, using any device or email client. This is especially useful if you frequently travel or work remotely.
Cost-Effective: A custom domain for Gmail is cost-effective, especially when compared to other email hosting services. You can use a custom domain for free with Gmail, and only pay for the domain registration and hosting fees, which are typically low.
Overall, using a custom domain for Gmail offers several advantages, including a more professional image, custom branding, better control, increased security, better accessibility, and cost-effectiveness.
How to Set Up a Gmail Custom Domain Name for Free
Setting up a Gmail custom domain for free involves a few steps. Here's a step-by-step guide on how to do it:
Step 1: Sign Up for a Google Workspace Account
To set up a custom domain, you will need a Google Workspace account. Google Workspace is a paid service, but you can get a free trial for 14 days. Sign up for the free trial, and you will be able to set up your custom domain during this period.
Step 2: Verify Your Domain
After signing up for Google Workspace, you will need to verify your domain to prove that you own it. Google provides several ways to do this, such as adding a TXT record to your DNS settings or uploading an HTML file to your website's root directory.
Step 3: Set Up Email Accounts
Once your domain is verified, you can set up email Google accounts for your custom domain. You can create up to 30 email accounts for free using Google Workspace. Once everything is set up,you can now login using your customer email domain and send an email to everyone.
Step 4: Configure MX Records
After setting up email accounts, you will need to configure the MX records for your domain. MX records tell other email servers where to send email messages for your domain. Google provides the necessary MX records that you can copy and paste into your DNS settings.
Step 5: Start Using Gmail
Once the MX records are set up, you can start using Gmail to send and receive emails using your custom domain. You can access your email account by going to the Gmail website or by using a mail client like Microsoft Outlook or Apple Mail.
Tips for Using a Free Gmail Account Custom Domain Effectively
Use a professional domain name: When choosing a custom domain name for your Gmail account, make sure it is professional and easy to remember. Avoid using complex or difficult-to-spell domain names, as this can create confusion for your contacts.
Customize your email signature: Your email signature is an opportunity to make a good impression on your recipients. Consider adding your name, title, and contact information to your signature to make it easier for people to reach you.
Organize your inbox: Use labels and filters to keep your inbox organized and easy to navigate. You can create labels for different projects, clients, or categories, and set up filters to automatically sort incoming emails into the appropriate labels.
Set up canned responses: If you frequently receive similar emails or inquiries, consider setting up canned responses to save time and increase efficiency. You can create and save pre-written responses that can be easily inserted into your emails.
Use Gmail add-ons: There are a variety of Gmail add-ons available that can help you streamline your workflow and increase productivity. Consider exploring the Google Workspace Marketplace to find add-ons that meet your specific needs.
Keep your account secure: It's important to take steps to keep your Gmail custom domain account secure. Make sure to use a strong password, enable two-factor authentication, and regularly update your security settings.
By following these tips, you can effectively use your Gmail custom domain to enhance your professional image and streamline your email communication.
Alternatives to Using a Gmail Custom Domain
While using a custom domain with Gmail can be a great way to personalize your email and enhance your brand, it's not the only option available. Here are some alternatives to consider:
Using a different email provider: There are many email providers out there that offer custom domain support, including Zoho Mail, ProtonMail, and FastMail. These providers often offer more features and flexibility than Gmail, so it's worth exploring your options.
Using a web hosting service: If you have a website, your web hosting service may offer email hosting as well. This can be a cost-effective option for getting a custom email address that matches your domain.
Forwarding your email: If you don't need a full email hosting service, you can simply forward emails from your custom domain to an existing Gmail account. This way, you can still use Gmail's interface and features while using your custom domain for your email address.
Using a domain registrar: Some domain registrars offer email hosting as part of their services. This can be a convenient option if you've already registered your domain with them.
Keep in mind that each option has its own pros and cons, so it's important to do your research and choose the one that best meets your needs.
Conclusion
Setting up a Gmail custom domain for free requires a bit of technical knowledge, but it's a great way to use Gmail with your own domain name. By following the steps outlined in this guide, you can set up your custom domain and start using Gmail to send and receive emails.
How to Set up your Google Gmail account, How to use your free gmail account -Video
https://www.youtube.com/watch?v=w5Id5tm0oVw
Related video