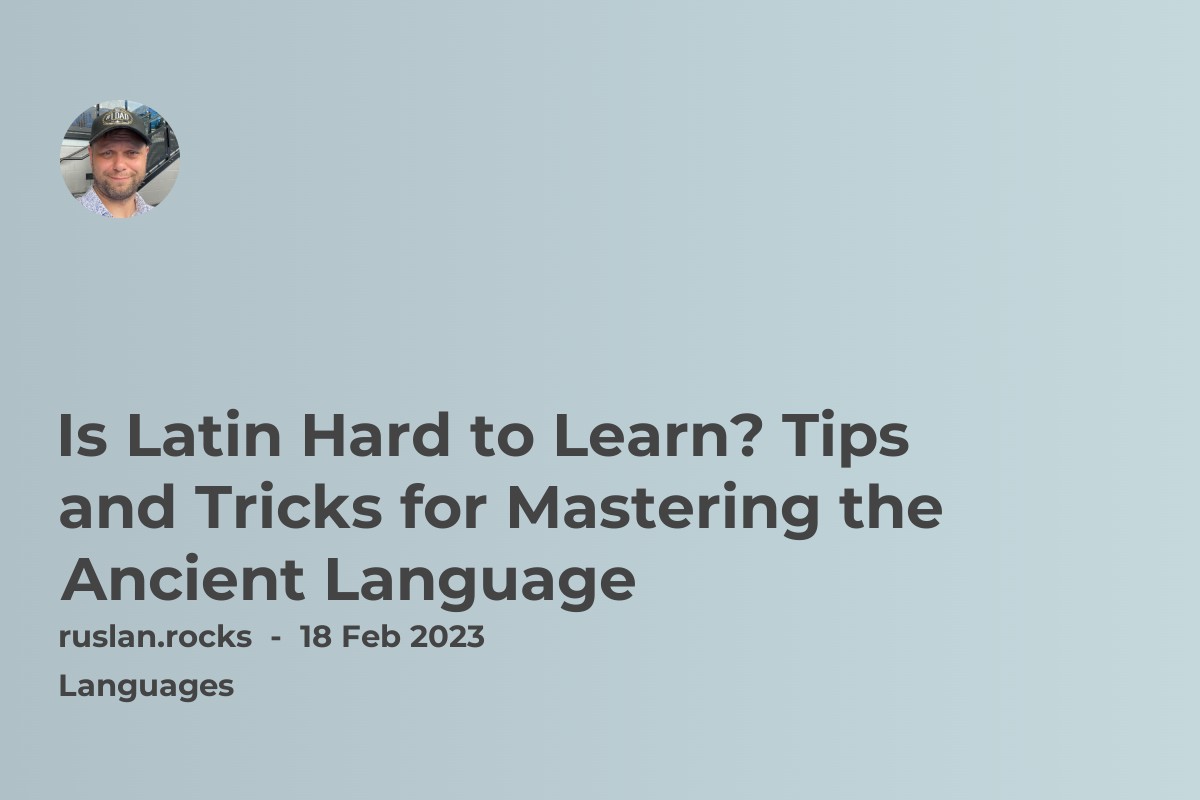 Latin is a classical language that the ancient Romans spoke. Although it is no longer in everyday use, it has profoundly impacted modern languages, including English, French, and Spanish. Learning Latin can be a rewarding experience, as it can deepen your understanding of the Roman world's history, literature, and culture. However, many people are hesitant to learn Latin because of its reputation for being difficult. Is Latin hard to learn? This article will explore some tips and tricks for mastering the language and overcoming its challenges.
The Challenges of Learning Latin
Latin is an inflected language, meaning words' endings change to indicate their grammatical function. This can be difficult for English speakers, who are accustomed to using word order to convey meaning. Additionally, Latin has a complex system of verb conjugation and noun declension, which can be daunting for beginners. Another challenge is the pronunciation of Latin, which can be tricky due to its emphasis on vowel length and stress patterns.
The Benefits of Learning Latin
Despite its challenges, learning Latin can have many benefits. Firstly, it can improve your understanding of English grammar and vocabulary, as many English words are derived from Latin. Secondly, it can deepen your appreciation of classical literature and history, as many ancient texts are written in Latin. Finally, it can be a fun and intellectually stimulating challenge as you learn a language that has been spoken for over two thousand years.
Tips and Tricks for Learning Latin
Here are some tips and tricks for mastering the challenges of learning Latin:
Focus on grammar: Mastering the grammar of Latin is essential for understanding the language. Make sure to spend plenty of time studying noun declensions, verb conjugations, and other grammatical concepts.

Practice pronunciation: Although the pronunciation of Latin can be challenging, it is important to practice until you can produce the correct vowel lengths and stress patterns.

Memorize vocabulary: Like any language, Latin requires you to memorize many words. Create flashcards or use a vocabulary app to help you remember new words.

Read Latin texts: Reading ancient texts in Latin can greatly improve your comprehension and deepen your appreciation of the language. Start with simple texts and work your way up to more complex ones.
Common Latin Phrases and Expressions
Carpe diem (seize the day)

Veni, vidi, vici (I came, I saw, I conquered)

Et cetera (and so forth)

Ad hoc (for this purpose)

De facto (in fact)

E pluribus unum (out of many, one)
In conclusion, while learning Latin may present some challenges, it can be a rewarding and enriching experience for those willing to put in the effort. By focusing on grammar, practising pronunciation, memorizing vocabulary, and reading Latin texts, you can improve your understanding of the language and deepen your appreciation of classical literature and history.
Whether you are interested in learning Latin for academic, professional, or personal reasons, the benefits of mastering this ancient language are well worth the effort.
So, is Latin hard to learn? Yes, it can be challenging, but with perseverance and dedication, it is possible to become proficient in this fascinating language.
Related video