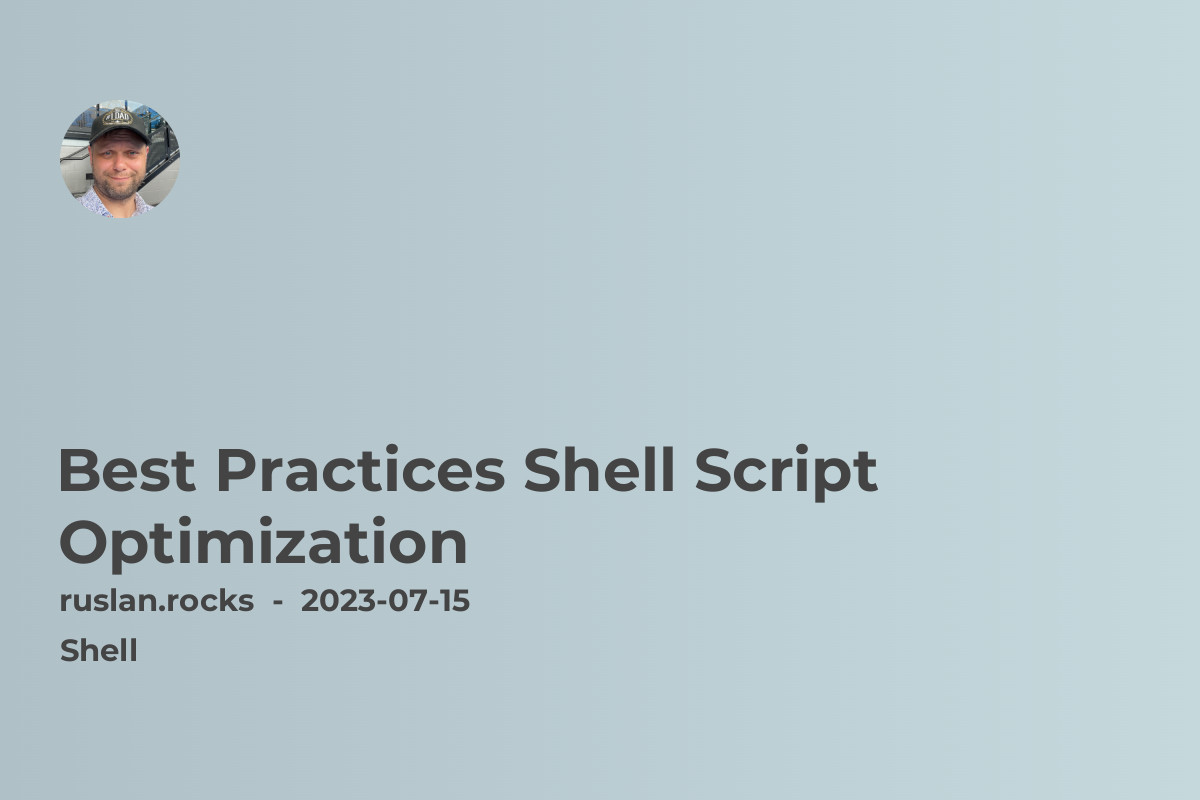 Best Practices for Shell Script Optimization
Shell scripting can be a powerful tool for automating tasks and improving productivity. However, poorly optimized shell scripts can be slow and inefficient. In this article, we will explore some best practices for optimizing shell scripts to improve their performance and efficiency.
Understanding Shell Script Optimization
Shell script optimization involves making changes to your scripts to make them faster, more efficient, and use fewer system resources. By following best practices, you can ensure that your scripts run smoothly and quickly, saving you time and effort.
Use Variables Effectively
One of the key ways to optimize shell scripts is to make effective use of variables. Variables allow you to store and manipulate data, reducing the need for repetitive code. By using variables, you can improve script readability and reduce execution time.
For example, instead of repeatedly calling a command that retrieves a system environment variable, you can store the value of the variable in a shell variable and reuse it as needed. This avoids unnecessary command execution and improves script performance.
Related Article: Working With Variables Shell Scripts: A Guide to Efficient Coding
Minimize External Command Execution
Executing external commands in a shell script can be time-consuming and inefficient. Every time a command is executed, the shell needs to load the command interpreter and execute the command, which takes up system resources. To optimize your script, minimize the number of external commands and find alternative ways to achieve the same result.
For example, instead of using a separate command to count the number of lines in a file, you can use shell built-in commands like wc or grep to accomplish the same task. This avoids the overhead of executing an external command and improves script performance.
Related Article: Advanced Shell Scripting Techniques
Properly Manage File Input/Output
Efficient handling of file input/output can significantly improve the performance of your shell scripts. When reading or writing data from files, consider the following best practices:
Use efficient commands like cat, grep, or awk to process large files instead of storing the entire file in a variable and looping through it.
Utilize output redirection (>, >>) to redirect command output to files. This eliminates the need for unnecessary command execution.
Close file handles after use using the exec command or the exec built-in shell command. This frees up system resources and prevents memory leaks.
Related Article: Automating Tasks With Shell Scripts
Optimize Loops and Conditionals
Loops and conditionals are common constructs in shell scripting. However, poorly optimized loops and conditionals can impact script performance. To optimize them, consider the following tips:
Minimize the number of iterations in loops by breaking out of the loop as soon as the desired condition is met. This saves unnecessary processing time.
Use built-in shell constructs like for or while instead of relying on external commands like awk or sed for iterations.
Optimize conditionals by using short-circuit evaluation. This means that if the outcome of a conditional statement can be determined without evaluating the entire expression, the evaluation stops.
Keep Scripts Modular and Maintainable
Maintaining clean and modular code is essential for script optimization. By splitting your script into smaller functions or scripts and organizing them properly, you can improve readability and reusability.
Furthermore, consider following coding conventions and adding comments to increase script maintainability. This makes it easier for other developers or yourself to understand the script's purpose, logic, and functionality.
Conclusion
Optimizing shell scripts can greatly enhance their performance and efficiency. By using variables effectively, minimizing external command execution, properly managing file input/output, optimizing loops and conditionals, and keeping scripts modular and maintainable, you can achieve faster and more efficient shell scripts.
Recommended Related Topics:
Remember to experiment with different optimizations and measure the performance impact to find the best practices for your specific use cases. Happy scripting!
Related video